Industry Standards & Certifications of Compliance
Adherence Accountability that Exceeds Requirements
You may not need certain specific security measures for your business, but wouldn't it be nice to know that your stored and workable data is just as safe? What if you decide to expand or add new fields of service? Working back to secure all connection points to your network and the stored data in your drives and backups can be near impossible.
Industry to industry, there exists standards and certifications of compliance and excellence that you can achieve and even advertise to your customers. Beyond excellence in policy or qualifications, there are also strict guidelines and regulations that must be followed in areas such as Health Care, Military, Military Defense Contractors, Education, Financial Services – even Retail, where confidentiality and security can be of great or even national importance. "OK, but I just don't need encrypted data and a hacker proof network, it's overkill." What if you lose your phone? Or your car is broken into and your laptop stolen? We live in a digital world where access to even our credit card information can be wirelessly scanned as we walk through a crowd at am amusement park. Your neighbors 12-year-old child can access your Wi-Fi and see everything you download, watch, and save on your smart T.V., phone, or computer. Have I got your attention now? Events such as large data breaches and malicious attacks or the uploading of ransomware have flooded our news lately and we have all heard of the companies, some of them huge corporations, that have unknowingly allowed personal account information, financial data, and even sensitive government and political information to be accessed used by parties unknown for undefined purposes occur constantly. You can be held liable and legally responsible if this happens to your business, not to mention the fact that your competitors may want your information, client lists, etc., or to interrupt your momentum in the industry – look what happened to Chipotle, that has been proven to have been the act of industrial espionage by an unknown party and it made many customers very ill. Sound a little too cloak and dagger? OK, but audits happen, and lawsuits are filed over less. Recently, Point-of-Sale systems have been shown to have a gaping hole in their technology framework and customer information and store inventory have been put at risk. Security breaches can happen at multiple points in your business architecture and IT infrastructure.
Including: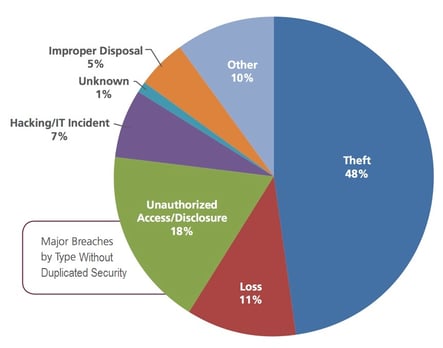 Network connectivity access points

Mobile Phones

Printers and copiers

Improper disposal of documents

Theft

Unauthorized access

Hacking

The losing of a phone or laptop

And the improper recycling of electronics

- before a complete memory wipe has been conducted.
The risk you take for yourself and for your business can end up being a harsh reality from the digital world. Make sure you have the right advice from the right Print Service or IT professional. Violations can be easily avoided if you do. With a Duplicated Network and Lexmark equipment you will know that your business has the same high-quality protection and security as mandated by the U.S. Department of Commerce, Health and Human Services, and the Pentagon. Whether you need to be in compliance with HIPAA, NIAP/CCEVS Certifications, FIPS, new ABA guidelines, or just want to make sure your cybersecurity risks are properly administered and managed we have the solution for you.
For more information on this or any Network Security/IT/Print issue please click on the button below!