The average small business spends 1-3% of annual revenue on printing.
By now just about everybody knows that ink/toner is really expensive, but there's a lot of other factors that effect printing costs. Most people feel that as long as their printers are working, there's no need to even think about them. That approach is expensive.
Through working with thousands of businesses to reduce printing costs we've found the fastest ways to make a big difference. We've compiled this list of 5 easy ways that a business can cut their printing costs and reduce the size of their footprint on our environment...
1. Print in B/W
On average, color printing is about 5X more expensive than black and white. Many companies don't pay attention to this minor detail and it costs them big.
Set computers to default to B/W and switch to color when necessary.
*Quick How To: Devices and Printers --> Printer Preferences --> Quality --> Print in B/W
WINDOWS MAC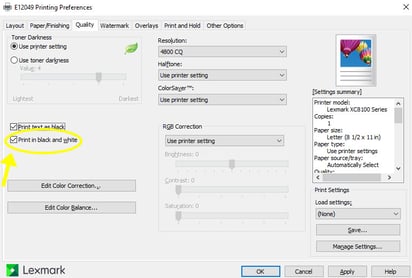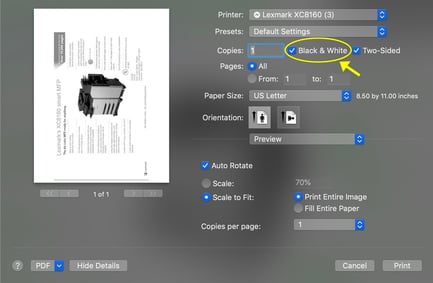 2. Print Double-Sided
The math is pretty simple on this one... Printing double sided will cut your paper usage in half. You can easily adjust these settings on your computer and/or copier.
If your printer isn't capable of duplex printing, it may be time to invest in a new copier.



3. Consolidate Printers
Switching from individual desktop printers to a large centralized device can dramatically cut printing costs and also save time by making it easier to manage.
Large MFPs (Multi-Function Printers) are much more efficient than small printers and also have many more capabilities.
4. Scan & Share
Do you often share documents with other people? Instead of printing it out just to be thrown away later, you can scan the document and share it.
Most copiers have the ability to scan to email. Just scan the document and send it to everybody that needs it. This will save valuable time and resources.
5. Use an MPS Provider
If your organization does a lot of printing, Managed Print Services might be worth it. MPS providers can set your business up with equipment that's designed for business usage and take care of supplies and service after.
It always makes sense to outsource the things that can be done more efficiently by a specialist.
If you need any help with any of these tasks you can reach me; Conner Windust on my cell phone @ (559) 801-3264 and I'll be happy to help.
I hope that these tips help! If you'd like to know how much printing is costing your business you can schedule a free print evaluation with our experts today!